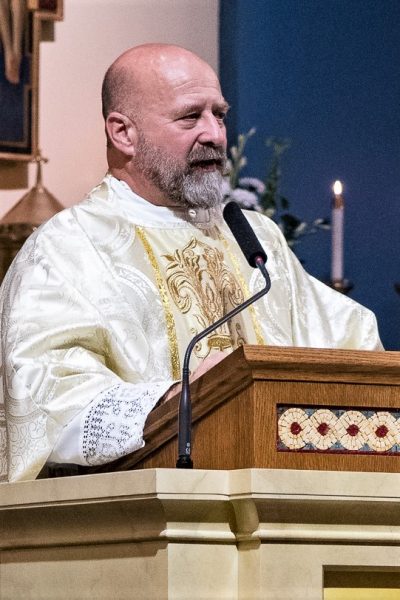 Dear Brothers and Sisters,
St. Michael the Archangel is always pictured skewering Satan with his spear, but the other great warrior in the spiritual battle is the Blessed Virgin.
She is pictured trampling the serpent under her feet in fulfillment of the prophecy in Genesis 3:15 where God tells the serpent that there will be enmity between him and the woman and she will trample the serpent underfoot. This is why our image of Our Lady of the Rosary shows her holding her son and trampling the serpent.
Popes and saints down the ages have all agreed that the rosary is the ultimate weapon for spiritual battle. Time and again they cry out to us, "Pray the rosary! Pray the Rosary! Pray the Rosary!" Our parish is dedicated to the Holy Rosary and this should be part of our special calling as members of this parish.
Why is the rosary important? Why is it strong in the battle against Satan? The rosary is important because through the rosary we use our minds and imaginations to work with God to remind the spirit world of the presence of Christ and his mother. They shared the passion that brought redemption to the world. They shared in the ultimate battle of Christ against Satan and as we pray the rosary, we bring those events to mind and participate with Jesus who defeated Satan and Mary who is his partner in the plan.
If you like, the rosary is a way we use the spiritual gifts God has given us in a focused way in the spiritual battle. You can think of the weapons God provides, and the rosary is the sharp edge of the sword or the tip of the spear.
In the Lower church we have a little bookshop specializing in books on the Rosary and the Divine Mercy. You can visit the bookshop and purchase books, but we also have a Give and Take Library–where you can donate Catholic books and take home any that you would like to read. No need to bring them back. Give and take freely to build up your spiritual life!
Your Pastor,
Fr. Longenecker